The worldwide popularity of Anime has led to the creation of fantastic games that resemble the anime style. Developers have teamed up with anime production companies to release games based on popular anime shows. Well, we have handpicked the five best anime games available on the Play Store in 2023, perfect for gamers and anime lovers.
These games offer exciting stories, beautiful visuals, and thrilling gameplay that will truly immerse players in the anime world. We've even included games based on famous anime franchises like Naruto and One Piece, so die-hard fans can enjoy their favorite fantasy worlds. Whether you're an avid anime lover or simply a passionate gamer, these exceptional anime games will transport you to incredible virtual worlds. So grab your mobile device, and let's explore the very best anime games on the Play Store together!
5. The Seven Deadly Sins
The Seven Deadly Sins is an awesome anime game on the Play Store. It's based on a popular anime and manga series with the same name. In the game, you join the adventure of the Seven Deadly Sins, a group of warriors wrongly accused of a crime. You get to explore the fantasy world of Britannia and go on thrilling quests with your favorite characters from the series.
The game is a turn-based RPG, which means you take turns attacking enemies. You can choose characters from the anime to form a team and fight together. There are different modes to enjoy, like Death Match where you face tough opponents, and PvP where you can battle against friends. It's fun to team up with friends to defeat powerful demons and save the kingdom. With its exciting gameplay and amazing graphics, The Seven Deadly Sins is a must-try anime game on the Play Store in 2023. So, whether you're a fan of the series or new to it, you'll have a great time playing this game.
4. Evertale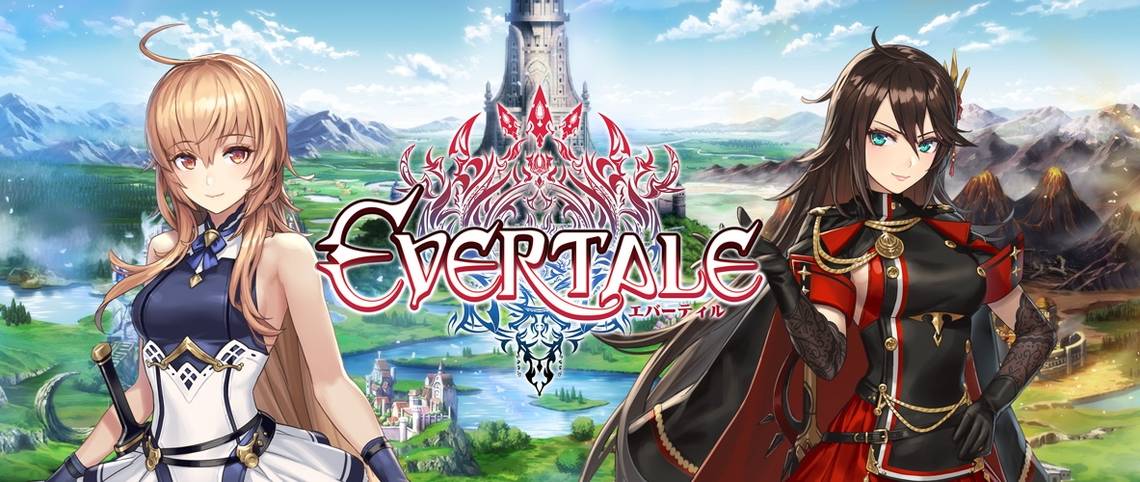 Evertale is a visually stunning game that combines captivating storytelling with strategic gameplay. In this game, you become a hero called a Crestbearer, whose mission is to capture and train magical creatures known as Serpents. These Serpents have special abilities and can be used strategically in turn-based battles against different opponents. Evertale offers both an offline story mode and an exciting PvP mode where you can team up with other players and engage in fast-paced battles. You can even climb the PvP leagues and join guilds to unlock limited-edition power-ups.
Evertale takes place in the enchanting world of Erden, which is divided into six unique regions, each filled with different types of monsters. One cool feature of the game is the chat option, which lets you talk with other players and your guild members to discuss strategies. Explore the open world of Evertale, with its diverse landscapes, towns, and dungeons packed with powerful monsters and hidden treasures. With its stunning visuals and thrilling gameplay, Evertale is definitely one of the best anime games you can find on the Play Store in 2023.
3. ONE PIECE Bounty Rush
One Piece Bounty Rush is an exciting anime game that you can find on the Play Store in 2023. It's based on the popular One Piece anime, which is loved by fans all around the world. Developed by Bandai Namco, this game lets you play as your favorite characters from the anime in intense 4v4 multiplayer battles. What makes it stand out is its cool 3D graphics, which make the game even more exciting than the usual 2D anime games.
In One Piece Bounty Rush, you can choose characters like Luffy, Zoro, and Sanji to create a team of four and take part in epic fights. The multiplayer mode is where the real action happens, as you go up against tough opponents and strive to become the best pirate out there. It's a game that brings the One Piece world to life and offers jaw-dropping visuals that will leave you amazed. If you're a fan of One Piece or just love anime games, One Piece Bounty Rush is definitely worth checking out.
2. Honkai Impact 3rd
Honkai Impact 3rd is an Action Role-Playing (RPG) game that deserves a spot on our list of the best anime games on the Play Store. Developed by miHoYo, this game has gained immense popularity with over 1 crore downloads on the Google Play Store. One of its standout features is the stunning 3D graphics that make the game visually impressive. As you explore the open world of the Honkai Universe, you'll be captivated by its immersive environment.
In Honkai Impact 3rd, you'll embark on an epic journey filled with real-time action. Your mission is to protect humanity from the destructive force known as Honkai. You'll take control of powerful warriors called Valkyries, each with their own unique combat styles and special abilities. Throughout the game, you'll encounter engaging cutscenes that enhance the storyline and keep you invested in the game.
Also, if you enjoy Honkai Impact 3rd, there are other similar games you can try. Genshin Impact, developed by the same company, offers a vast open world and immersive gameplay. Azur Lane combines anime visuals with strategic naval battles. Honkai: Star Rail, a spin-off of Honkai Impact 3rd, provides an alternative experience within the same universe.
1. Naruto X Boruto Ninja Voltage
We have come down to the end of our list of 5 Best Anime Games On the Play Store, and the top spot on our list is a Bandai Namco Entertainment-developed action RPG game, Naruto X Boruto Ninja Voltage. In this game, you can play as your favorite character from the series and engage in battles using their unique ninja powers called jutsus. The game also allows you to build your own ninja village and protect it from enemies. You can team up with friends for cooperative gameplay, taking on challenging missions together. With its stunning graphics and engaging gameplay, Naruto X Boruto Ninja Voltage offers an exciting experience for fans of the anime. You can download the game from the Play Store and dive into the vast world of Naruto and Boruto.
So, Naruto X Boruto Ninja Voltage is a must-play game for anime enthusiasts and fans of the Naruto and Boruto series. It faithfully captures the essence of the shinobi world, allowing you to step into the shoes of your favorite characters. The game features cooperative gameplay, enabling you to team up with friends and embark on thrilling missions. With its immersive graphics and engaging gameplay, Naruto X Boruto Ninja Voltage is a game that shouldn't be missed. Simply head to the Play Store, download the game, and get ready to explore the expansive world of Naruto and Boruto.
So, Naruto X Boruto Ninja Voltage secures its place as the top anime game on the Play Store in 2023. With its action-packed battles, cooperative gameplay, and faithful adaptation of the beloved anime series, it's a must-play for fans. However, we'd love to hear your thoughts! Do you believe any other games deserve a spot on this list of best anime mobile games? Let us know in the comments below and keep gaming!